Archive for category Consumer Insights
In an effort to promote safe sex practices, US-based sexual and reproductive health care organization, Planned Parenthood, passed out free condoms with QR codes on the packaging to enable people to share their responsible behaviors as part of its "Where Did You Wear It?" campaign
By scanning the codes using their smartphones, people were directed to a page where they could share basic personal information such as age and sex and check-in to an interactive world map, which showed the approximate location of the couples.
It was reported that more than 55,000 condoms with QR codes were distributed in Washington state alone as part of the campaign. The idea is to overcome the significant barriers that exist in getting people to adopt behaviors that help reduce unintended pregnancy and the spread of sexually transmitted diseases. In effect, by demonstrating how common it is for sexually active people to use protection. Planned Parenthood distributed the condoms to college and university health care centers.
According to Nathan Engebretson of the Great Northwest Coordinator for Planned Parenthood:
"We hope the site promotes discussions within relationships about condoms and helps to remove perceived stigmas that some people may have about condom use. Where Did You Wear It? attempts to create some fun around making responsible decisions"
Not only was the campaign intended to be playful and positive, but it also provides valuable data to the organization about who their message is reaching, perhaps helping them to design more effective marketing. So far, all 50 states in America and six continents have reported check-ins.
via PSFK
One of today's marketing strategy is to have deeper understanding on market's socio-cultural traits and struggles. Ben & Jerry went as far as changing their product's name in support of same sex marriage in the UK. Take a look at the article below :
Ben & Jerry's, the Unilever ice-cream brand, is changing the name of its "Oh My! Apple Pie" ice-cream to "Apple-y Ever After", in support of the UK's proposal to legislate in favour of gay marriage.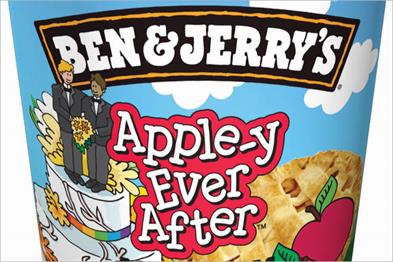 Ben & Jerry's: rolls out Apple-y Ever After flavour. The ice-cream flavour's packaging has also been redesigned and now features a male couple standing on top of a wedding cake.
The brand has partnered with Stonewall, the charity that campaigns and lobbies for the rights of gay, lesbian and bisexual people.
This week the UK Government is set to open its consultation on how to implement the legislation that will give equal marriage rights to gay people.
Ben & Jerry's has also launched a Facebook app to encourage consumers to use the #applyeverafter hashtag on Twitter and send in their support for the legislation.
A dedicated part of Ben & Jerry's UK site, http://www.benjerry.co.uk/our-values/appleyeverafter, displays information about why the brand has changed the name of its apple flavour, a link to the Facebook app and a drafted letter that consumers can use to send to their local MP.
Ben & Jerry's said it has been an advocate for equal rights, regardless of sexual orientation, since the brand was created.
It ran similar activity in America to celebrate the introduction of gay marriage legislation in the brand's home state of Vermont and renamed its "Chubby Hubby" ice-cream to "Hubby Hubby".
Laura Doughty, deputy chief executive, Stonewall, said: "We're truly moved by Ben and Jerry's support for same-sex marriage in Britain. All people want is to call their long-term relationship by the same name as everyone else.
"Our strong advice to those who disapprove of same-sex marriage is just not to get married to some-one of the same sex".
Source : http://www.brandrepublic.com/news/1121819/ben-jerrys-renames-ice-cream-support-gay-marriage/
A nice piece done by Landor in India. Lulu Raghvan takes us through how the Indian consumer has evolved and where they are now by talking to Senior Executives in various agencies and organisations that studied the indian consumer.