Posts Tagged culture
One of today's marketing strategy is to have deeper understanding on market's socio-cultural traits and struggles. Ben & Jerry went as far as changing their product's name in support of same sex marriage in the UK. Take a look at the article below :
Ben & Jerry's, the Unilever ice-cream brand, is changing the name of its "Oh My! Apple Pie" ice-cream to "Apple-y Ever After", in support of the UK's proposal to legislate in favour of gay marriage.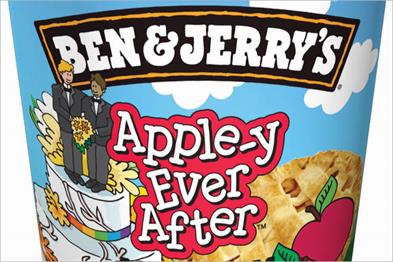 Ben & Jerry's: rolls out Apple-y Ever After flavour. The ice-cream flavour's packaging has also been redesigned and now features a male couple standing on top of a wedding cake.
The brand has partnered with Stonewall, the charity that campaigns and lobbies for the rights of gay, lesbian and bisexual people.
This week the UK Government is set to open its consultation on how to implement the legislation that will give equal marriage rights to gay people.
Ben & Jerry's has also launched a Facebook app to encourage consumers to use the #applyeverafter hashtag on Twitter and send in their support for the legislation.
A dedicated part of Ben & Jerry's UK site, http://www.benjerry.co.uk/our-values/appleyeverafter, displays information about why the brand has changed the name of its apple flavour, a link to the Facebook app and a drafted letter that consumers can use to send to their local MP.
Ben & Jerry's said it has been an advocate for equal rights, regardless of sexual orientation, since the brand was created.
It ran similar activity in America to celebrate the introduction of gay marriage legislation in the brand's home state of Vermont and renamed its "Chubby Hubby" ice-cream to "Hubby Hubby".
Laura Doughty, deputy chief executive, Stonewall, said: "We're truly moved by Ben and Jerry's support for same-sex marriage in Britain. All people want is to call their long-term relationship by the same name as everyone else.
"Our strong advice to those who disapprove of same-sex marriage is just not to get married to some-one of the same sex".
Source : http://www.brandrepublic.com/news/1121819/ben-jerrys-renames-ice-cream-support-gay-marriage/
Came across this great video that looks into how KPOP came about in Singapore and how its grown. Some very interesting finds such as seasonal trends in terms of when female and male artists are more dominant and how the group must have diversity in order to capture a larger audience.
Although slightly old it does still give anyone who doesn't know much about KPOP some good background information.
All credit has to go to the makers of this that obviously spent hours and hours finding out about KPOP.
About this talk
How does one find authentic creativity? In his last talk before passing away, Malcolm McLaren tells remarkable stories from his own life, from failing school to managing the Sex Pistols. He argues that we're living in a karaoke culture, with false promises of instant success, and that messiness and failure are the key to true learning.
About Malcolm McLaren
A designer, promoter and recording artist, Malcom McLaren masterminded the punk-rock group the Sex Pistols, was an early mover in globalizing hip-hop, and made ambitious works of art. Full bio and more links
Source: http://www.ted.com/talks/malcolm_mclaren_authentic_creativity_vs_karaoke_culture.html